South African Candles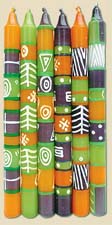 click for Limited Editions

From the Cape to Mozambique, Malawi, Ghana and East Africa our functional art product captures the wormth and beauty of Africa. The vivid colors reflect the variety of the landscape and its many cultures. The designs of the african hand painded candles incorporate animal prints and geometric shapes that are frequently used in tribal patterns. These hand crafted African candles allow you to take home a little piece of Africa.